Raymond Bakes (Healthy!) Cookies
Happy New Year!! And Happy January 25th—Christmas is exactly 11 months away! I hope you all brought in the new year with much joy. This time of year, there's usually a buzz about eating healthier, exercising more, spending more time with family, etc. What are your plans or resolutions for the new year?
I did make a resolution to eat healthier (again), but what I'm more excited about is (drumroll, please)… trying a new recipe every week. So far so good! I've tried a handful of recipes from a healthy cookbook, and I found my new favorite cookie recipe! They are called Carnival Cookies. They're primarily made from bananas and oats, so they're super healthy and you don't need to feel guilty if you've eaten 5 or 6! 😉 I shared the first batch of cookies with the other elves and reindeer here at the North Pole, and everyone loved them!
Especially Raymond.
Raymond loved the cookies so much that he begged me make another batch of cookies. It didn't take much prodding for me to agree to bake some more. (Who can say no to cookies?) So Raymond and I headed to the pantry to gather the ingredients.
But first we needed to put on our aprons.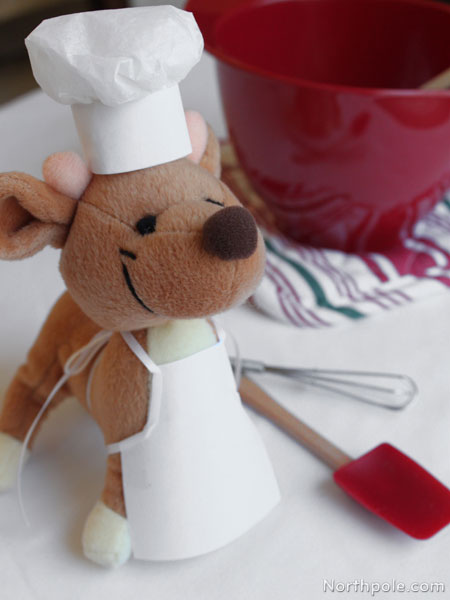 Then we got all the ingredients together. Raymond mashed the bananas while I mixed the dry ingredients.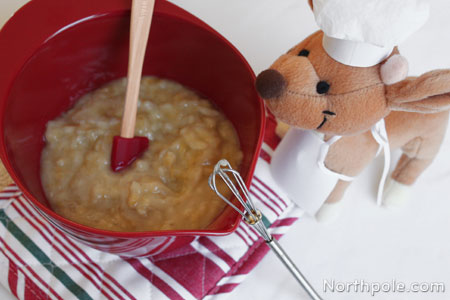 After we added all the ingredients, we put the cookies on baking sheets, and then popped them in the oven to bake. About 15 minutes later, Mrs. Claus took them out of the oven. In the meantime, Raymond and I eagerly waited for the cookies to cool.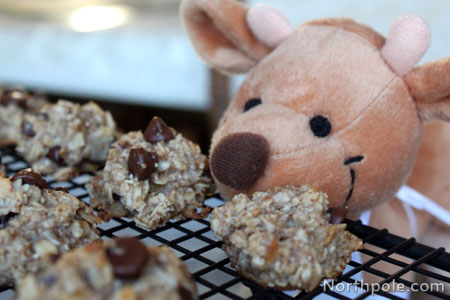 Looking for more yummy recipes? Click here to view the recipes in Mrs. Claus' Kitchen.
What's your favorite cookie?