Scoop Up Some Holiday Cheer with These Festive Ice Creams
Whether it's 30°C or 0°C, I absolutely love eating ice cream. When Raymond and I travel, we have such a great time sampling local frozen treats, such as patbingsu in South Korea or Ghirardelli ice cream in San Francisco. When the seasons change, some ice cream purveyors release special edition flavours just for the holidays. Two of my favourite things—Christmas and ice cream—brought together? Yes, please!
For my fellow ice cream enthusiasts, I have compiled a list of some shops and restaurants that are featuring festive flavours this holiday season. While some of these icy indulgences might seem pricy compared to your typical supermarket offerings, trust me, they're worth it, as nothing quite beats artisanal ice cream.
Columbus • Cleveland • Nashville • Chicago • Atlanta • Charleston • L.A. • St. Louis • Online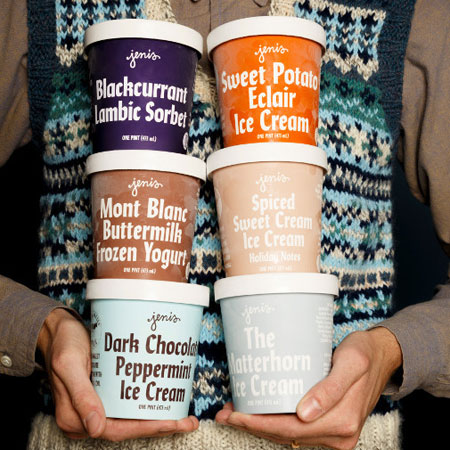 On any number of occasions, I have had ice cream from Jeni's, and I can vouch that it is indeed splendid! Jeni's Splendid Holiday Collection features complex, unique flavours, such as The Matterhorn [wildflower honey ice cream with white chocolate flakes and smoky almonds] and Spiced Sweet Cream: Holiday Notes [cardamom, Peru balsam, fenugreek, and vanilla]. The whole collection includes:
Blackcurrant Lambic Sorbet
Dark Chocolate Peppermint
Mont Blanc Buttermilk Frozen Yoghurt
Sweet Potato Éclair
The Matterhorn
Spiced Sweet Cream: Holiday Notes
Purchase an individual pint online for $12 or the entire collection for $68.
If you live in—or will be visiting—Columbus, Cleveland, Nashville, Chicago, Atlanta, Charleston, Los Angeles, or St. Louis, you can also visit a Jeni's scoop shop to pick up a pint or try a trio on a handmade waffle cone. Find your nearest scoop shop here.
Edinburgh • London • Norwich • Bath • Liverpool • Glasgow • York • And Many More Cities
With 4 scrumptious vegetarian burgers on the menu, Gourmet Burger Kitchen is my favourite spot to grab a burger when I'm in the UK. What's more, they have really tasty milkshakes, including a gingerbread cookie dough and clotted cream ice-cream milkshake [£4.75]. Find a GBK location near you and enjoy this seasonal shake.
Portland • Los Angeles • Online
Portland, Oregon-based Salt & Straw is offering a December Seasonal Pints Pack. Taking inspiration from the Christmas season and Portland, this pack contains the following flavours:
Peppermint Cocoa
Apple Brandy & Pecan Pie
Gingerbread Cookie Dough
Congressman Blumenauer's Fruitcake
Fennel Five Spiced Eggnog
Order the pack online for $65 or try the flavours at one of Salt & Straw's Portland or Los Angeles scoop shops.
NYC • Chicago • Los Angeles • Boston • Philadelphia • Washington, D.C. • And Many More Cities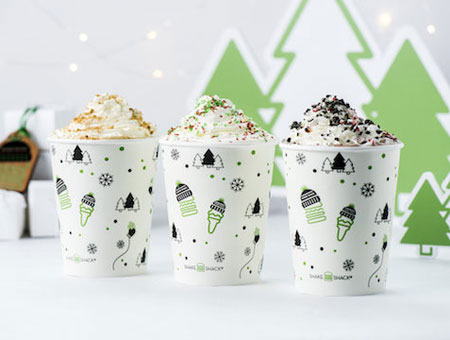 From humble beginnings in Madison Square Park to now a global empire, Shake Shack has introduced a trio of holiday shakes that are available through 1 January. Choose between Chocolate Peppermint, Christmas Cookie, or Pumpkin Pie [$5.79]. On sale at all U.S. locations except stadiums and JFK airport, find your nearest Shack here.
Atlanta • Athens • Charleston • Charlotte • Greenville • Nashville • Richmond • Savannah • Online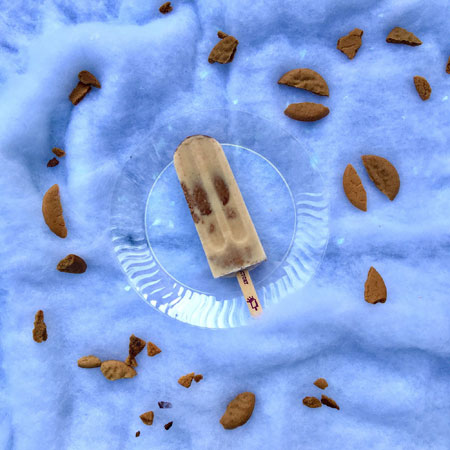 The mission of Atlanta-based King of Pops is "to introduce the community to frozen happiness on a stick," and they do just that with their artisan popsicles, which are quite tasty. This year you can grab their pack of exclusive holiday flavours: Gingerbread, White Chocolate Peppermint, Eggnog, and Apple Cider. This pop pack is available online for $15 or at their locations around the Southern U.S.
If you live near Atlanta, you can also stop by King of Pops Bar & Good Grub at Ponce City Market. Here you can get pop dipped in chocolate or a poptail, which is exactly what is sounds like—a cocktail with a pop in it. Yum!
Rome • Venice • Milan • Florence • Turin • Verona • Siena • Brescia • Parma • And Many More Cities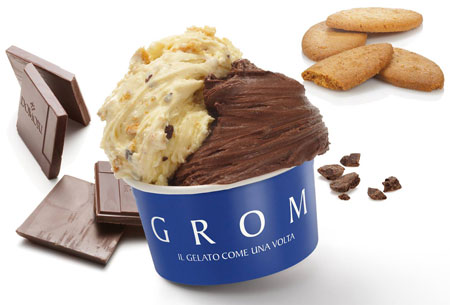 Selling gelato that is 100% natural, GROM has locations all over Italy, and on my trips there, I have been known to visit GROM more than once, as gelato is most definitely a requirement during any holiday to Italy. This Christmas season, they are serving several festive flavours, such as Panettone, Marrons Glacés [candied chestnuts], and Caramello al Sale [caramel with Himalayan pink salt]. If you're in Italy or will be visiting Italy this December, check out Il Natale di GROM for their fun advent calendar, and find a location to enjoy some gelato yourself.
What is your favourite ice cream treat during the holiday? Is there another creamery I should know about? Let me know in the comments!