That Evergreen Scent… Delivered Straight to Your Door
For those of you who enjoy the scent and look of a fresh Christmas tree, but hate the hassle of hauling the tree home, have you considered having the tree delivered? No more fighting holiday traffic or worrying about the tree's needles scratching your car—simply order the tree and have it delivered while you're cozy at home.
Check out the companies below located around the United States and the world that will deliver Christmas trees straight to your home or business.
Green Valley Christmas Trees – Continental USA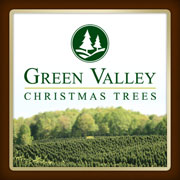 Offering a wide variety of Christmas trees—such as Fraser fir, noble fir, balsam fir, and Nordmann fir—Green Valley delivers all across the continental United States. [Free ground shipping on all products!] Besides trees, they also sell live wreaths and garlands.
Contact Green Valley at 888.48.TREES [888.488.7337] or head over to their website for more info.
Tree Elves – Atlanta

Based in Atlanta, GA, Tree Elves will bring you a small, medium, or large Fraser fir, along with 4 King of Pops popsicles [yum!]. After the holidays, Tree Elves will pick up your tree and take it to a farm where it will be turned into compost and added to the soil to help grow fruit. For every tree purchased, Tree Elves will plant a native Georgia tree, such as red maple or eastern red cedar.
For more info, ring Tree Elves at 678.732.9321 or visit treeelves.net.
Christmas Trees Delivered – London

Selling trees for more than 30 years, London-based Christmas Trees Delivered distributes Norway spruce, noble fir, and Nordmann fir to the inner postcodes. They also offer table top trees, poinsettias, holly, mistletoe, and fresh garland. For an additional £15, Christmas Trees Delivered will collect and recycle your tree.
Questions? Call 020 7529 8161 or check out their website.
Tyler's Trees – NYC
Located in New York City, Tyler's Trees offers Fraser firs from 5 to 9 feet. Every tree order includes delivery, installation, a tree stand, and tree skirt. For additional fees, they will even decorate your tree or come remove it after the holidays.
To learn more, call 646.543.0861 or visit tylerstrees.com.
EZ Tree – Toronto

Servicing the Greater Toronto Area, EZ Tree delivers Fraser firs from 5'-12' in either #1 grade or premium grade. Also available are protective floor mats and tree stands, as well as a tree disposal service.
Contact EZ Trees at 416.358.3923 or check out their website.