December starts tomorrow, which means that the holiday season is now in full swing. Does your Christmas to do list have you stressed? No need to worry, as we elves are here to help. We've compiled a list of some Cyber Monday/Cyber Week deals to help you with your holiday shopping. Plus, several of the companies below are offering free shipping on top of some already excellent savings! So fix a cup of cocoa, get cozy on the sofa with your laptop or tablet, and have fun shopping!
1-800-Flowers
Sending fresh flowers is a classic way to give a festive holiday gift to your grandmother, aunt, or a friend who lives across the country. Did you know that you can place your order now and have it shipped closer to Christmas? Yep, it's true! So go ahead and order today and save 25% off flowers and gifts with code BFCM25. Valid until 12/6/2015 at 11:59pm EST.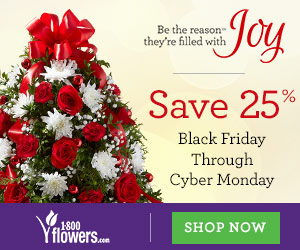 Juice Beauty
If you've been looking for organic skin care products for yourself or a loved one, you'll want to check out the award-winning products at Juice Beauty. Get 20% off and free shipping by using code CM2015 at checkout. Valid until 11/30 at 11:59pm PDT.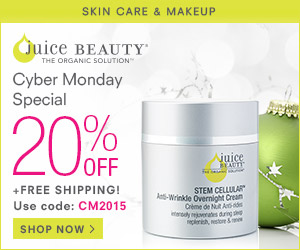 Kohl's
Kohl's is a great place to shop for shoes, clothing, home decor, and more. One of my favorite things about Kohl's is that you can stack up the savings with multiple coupon codes. Some of these deals are good today only, so catch them before they're gone!
$10 off $50 home goods purchase with code COZYUP. Valid 11/30 only.
$10 off $50 apparel purchase with code JACKPOT. Valid 11/30 only.
$10 off $50 outerwear, cold weather accessories, and cold weather boots with code BUNDLEUP. Valid 12/2 only.
$10 off $50 sleepwear and slippers for the family with code SLEEPTIGHT. Valid 12/3 only.
Get an ADDITIONAL 20% off sitewide with code NOVTAKE20. Valid until 12/1.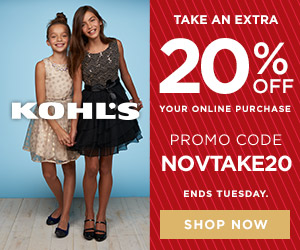 The Land of Nod
The fun, whimsical toys and room decorations at The Land of Nod make me wish I was a kid again! Classic books, unique toys, and fanciful playhouses are just a few of the things that the Land of Nod has to offer. Need ideas for stocking stuffers? They've got you covered. Today Land of Nod is offering 20% off and free shipping!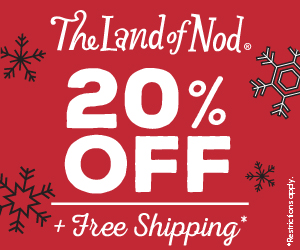 Macy's
Is there a designer handbag or a fabulous pair of shoes you've been eyeing for someone on your gift list? Macy's has sales across their whole site, plus you can get an extra 20% and free shipping with code CYBER. Valid 11/30.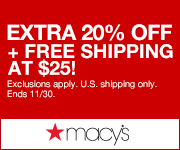 Minted
December is just one day away, and if you haven't thought about your Christmas cards yet, now is the time to get them! The Cyber Monday deals at Minted.com are 20% off holiday cards and 25% off other select products. Perhaps you can give a lovely photo calendar to your grandparents or create personalized wrapping paper for gifts. Use code CM2015. Valid 11/30 until 11:59pm PT.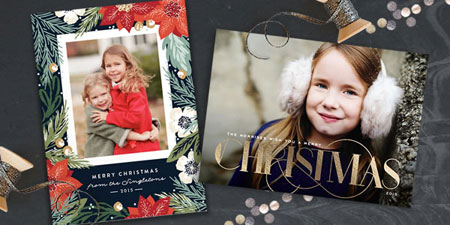 NFL Shop
Is there a sports nut or two on your holiday list? Grab some game day gear so they can flaunt their favorite football jersey or team colors. This Cyber Monday deal at NFLShop.com can't be beat! Save 20% on orders over $25 with code CM2015. Valid 11/30.
Omaha Steaks
This is Omaha Steaks' best offer of the season! Order a gift for your loved ones or stock your fridge with delicious meal solutions for upcoming holiday dinners. Head over to OmahaSteaks.com to get free steaks, free shipping, and save up to 60%.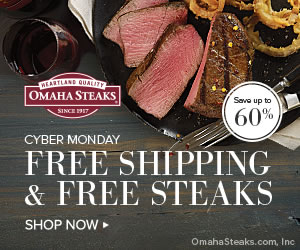 The Body Shop
I love the assortment of body care products at The Body Shop, as you can find moisturizers, skin care essentials, fragrance mists, candles, and more. Their gift sets make it easy to find presents for the men and women on your holiday list! With their Cyber Monday promo, you can get 50% off and free shipping. Valid 11/30–12/1.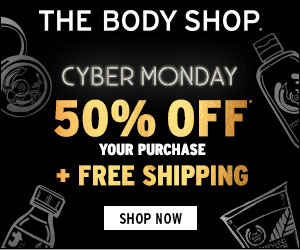 Walmart
You can find great prices on familiar brands all week long at Walmart.com. Need trinkets, toys, and candy to fill several stockings? Find all that and more here!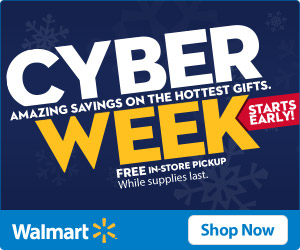 Need More Gift Ideas?
If you are still looking for gift ideas to finish up your Christmas shopping, head on over to the Gift Shop where we have tons of fabulous elf-selected presents for everyone on your list!