Go for a Spin at a Pop-Up Rink Near You
It's that time of year when ice rinks are popping up all around. We've hand-picked a few popular ones to highlight today that are located in large cities. As one might expect, most of these pop-up rinks charge admission, but some lucky souls can get in for free! So round up your troupe, gather your friends, or grab your honey's hand and head to over to pop-up ice rink near you for some festive fun.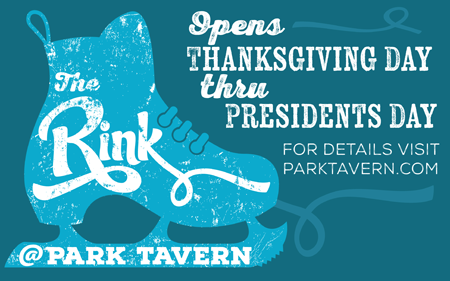 In midtown Atlanta, the ice rink at Park Tavern is a go-to spot for a gliding-good time. The rink is fully enclosed and temperature regulated, so it's heated—or air-conditioned if Atlanta's experiencing warm winter weather. While skating, you can enjoy music that plays over the speakers, and when you need to rest your feet, have a seat at a table and gulp down some hot chocolate. The last day to skate is February 15, 2016, so get your tickets today. They are available to purchase here.
The Rink at Park Tavern
500 10th St NE
Atlanta, GA 30309
404-249-0001

Admission: $15–$20
Skate Rental: Included!
Hours, Monday–Friday: 4:30pm–12am*
Hours, Saturday & Sunday: 11:30am–12am*
*Adults only: 8:30pm–12am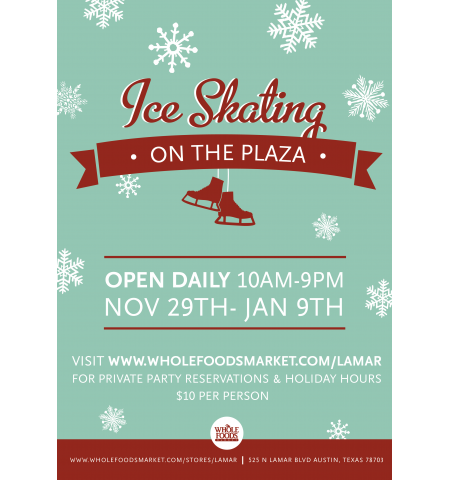 Well, this is something I've never heard of before—skating on a roof! Yup, that's right, at a Whole Foods store in Austin, Texas you can skate on the top of a building! Sounds intriguing, doesn't it? If you live within driving distance of Austin, head on over to the Plaza and take your turn spinning around this rooftop rink.
Know this before you go: Friday nights and weekends are always open to the public, but weekdays may be booked for a private event. To confirm that a weekday is open to the public, call Guest Services at this store.
Ice Skating on the Plaza
525 N Lamar Blvd
Austin, TX 78703
512-542-2200

Admission: $10
Skate Rental: Included!
Hours: 10am–9pm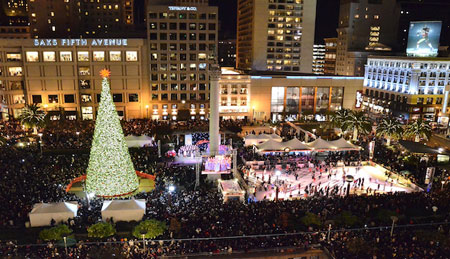 In the heart of San Francisco, you can find a pop-up rink in Union Square. One unique feature about this rink is that they have a mobile app, so tech-savvy skaters can jump in the "virtual queue" instead of waiting in line. I'm sure you'll enjoy spending that time scouting out some hot chocolate in the square!
While the rink is open now until January 18, 2016, you may want to go ahead and buy your tickets online as certain times are already sold out.
Union Square Ice Rink
333 Post St
San Francisco, CA 94108
415-781-2688

Adult Admission: $11
Children Admission: $7
Skate Rental: $6 (On Wednesdays, rent your skates for free, thanks to Bank of the West!)
Hours: 10am–11:30pm (Closes at 9:30pm on December 31st.)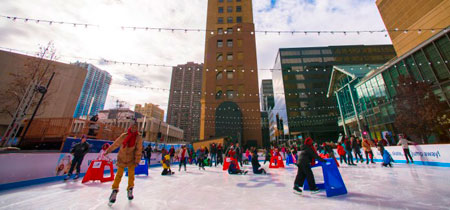 Skating at Skyline Park is free—yippee! And, renting a pair of skates is only $2, or free if you're a student (just show your MY Denver Card). With rates like this, it's the perfect opportunity to come out again and again all winter long. Since the rink is open until February 15, 2016, there's no rush to cram in your skate sessions before Christmas. 😉
Southwest Rink at Skyline Park
16th St & Arapahoe St
Denver, CO 80202
303-825-6787

Admission: Free!
Skate Rental: $2
Hours: Varies by day. Click here for details.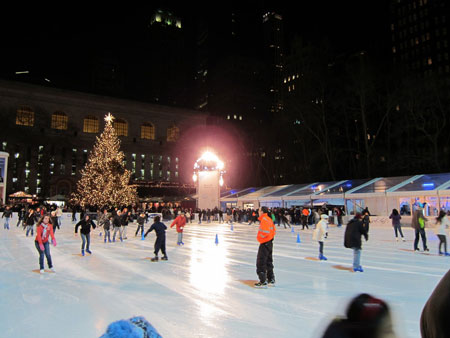 The Winter Village at Bryant Park is the only rink in New York that offers free admission! Since there's no fee, it's an inexpensive way to entertain all your relatives who are visiting. Or if you work nearby, you can pop over for a quick twirl on the ice during your lunch break! With the rink being open until March 6, 2016 you've got plenty of time schedule a slippin' good time!
Winter Village at Bryant Park
Located in Midtown Manhattan between 40th & 42nd Streets
and Fifth & Sixth Avenues
New York, NY 10018
212-661-8870

Admission: Free!
Skate Rental: $15–$19
Hours: 8am–10pm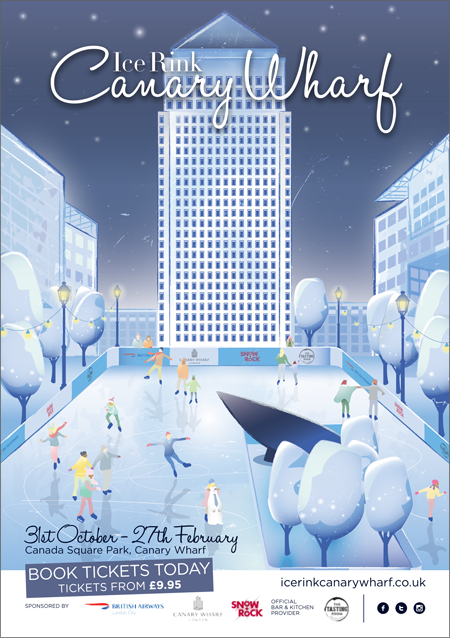 For our British friends, plan on visiting the ice rink at Canary Wharf. It is home to London's only skate path and can proudly say it's one of the city's largest rinks. The trees surrounding the area are beautifully lit with fairy lights which add to the magical holiday feel. If you'd rather watch the icy action from the sidelines, you can make yourself comfy on the viewing terrace. The rink is open until February 27, 2016.
Ice Rink Canary Wharf
Canada Square Park
Canary Wharf
E14 5AB
London
08456 531 431

Adult Admission: £14.95
Child Admission: £9.95
Skate Rental: Included!
Hours: Varies. See here for details.