Kindling Spirits with the Singing Christmas Tree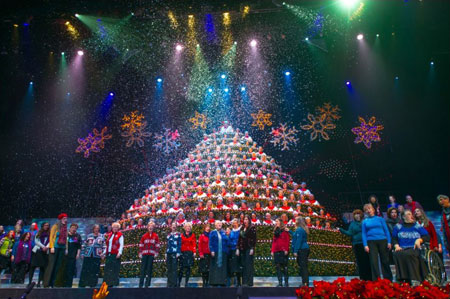 Ready to kick off the holiday season? If you live near Portland, Oregon, the Singing Christmas Tree is a great way to do so! This unforgettable theatrical production is 53 years in the making. It all began in 1962 with just a single show and has grown into an annual Portland tradition with multiple performances. Make it a date with someone special on a Saturday evening or catch an afternoon matinee with the whole family. Comprised of hundreds of local singers, dancers, actors, and a live orchestra, the Singing Christmas Tree is sure to be an experience that kindles the Christmas spirit in the hearts of all who attend. To find out more information about the performances and to get tickets, go here.
2015 Performance Dates:
Saturday, November 28th – 11:00am, 3:30pm, 7:30pm
Sunday, November 29th – 2:30pm
Thursday, December 3rd – 7:30pm
Friday, December 4th – 7:30pm
Saturday, December 5th – 11:00am, 3:30pm, 7:30pm
Sunday, December 6th – 2:30pm
Want to support the Singing Christmas Tree, but can't attend any of the performances? Consider making a donation to help it come to life next year! Click here for more information.