#OptOutside This Friday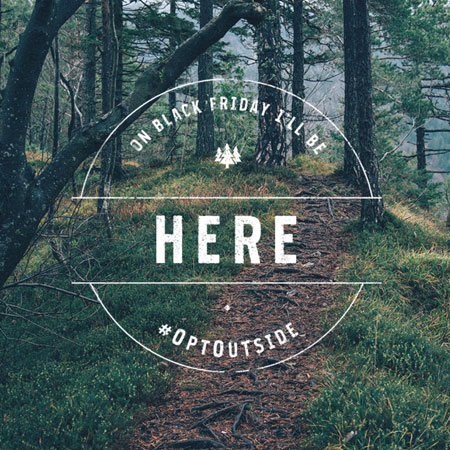 This Friday REI, the outdoor recreation and sporting goods retailer, is doing something rather extraordinary. Instead of participating in Black Friday, they are closing all of their stores and paying their 12,000+ employees to spend time outside, and they are inviting everyone else to join them. While some folks probably can't imagine a store not being open on the biggest shopping day of the year, this campaign [appropriately called #OptOutside] fits quite well with REI's belief that "a life outside is a life well-lived," and I can definitely appreciate them practicing what they preach!
In the midst of holiday busyness, taking some time to go explore the great outdoors sounds like a fantastic idea. All of us could benefit from pausing and enjoying the beauty of nature—whether it's a snowy mountain, scenic state park, metropolitan botanical garden, or your favourite campground.
Some parks in the USA are even offering special discounts and events to help encourage people to #OptOutside this Friday. Here are just a few of the participating park systems:
For a list of additional park systems, organizations, and companies that have partnered with REI on this campaign, please visit REI's website. Or, go here to find places to have fun skiing, hiking, cycling, or paddling. You can also check out the hashtag #OptOutside on Twitter, Facebook, or Instagram to see how others are spending their Friday out in the fresh air!
Personally, I plan to #OptOutside on Black Friday by exploring a marsh and a beach with my fiancé and my dog. How will you be spending the day? Will you be fighting the crowds at the mall? Hiking with your children at a state park? Sleeping in late and then putting up your Christmas tree? Going for a run around a lake? Let us know in the comments!