Raymond Around the World: Chicago
So far this year we've told you about Raymond seeing the North American eclipse and exploring Chattanooga, TN. This past spring I had to travel down to Chicago for a conference, and since he had such a blast last time, Raymond asked if he could come with me. Most of the week was extremely busy because of the conference, but on our last afternoon in town, Raymond and I were able to get out and savour the beautiful weather.
Itching to leave the hotel and explore
As we tend to do in Chicago, we walked A LOT. Raymond and I had such a lovely time, enjoying each other's company and the awesome Chicago architecture. It seems that everywhere you turn, there is another interesting building!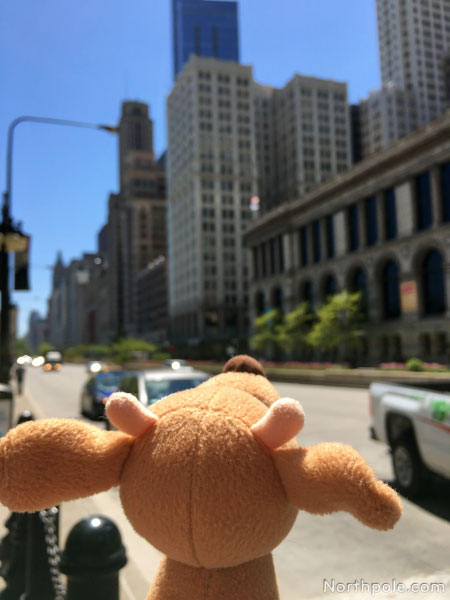 Walking along Michigan Avenue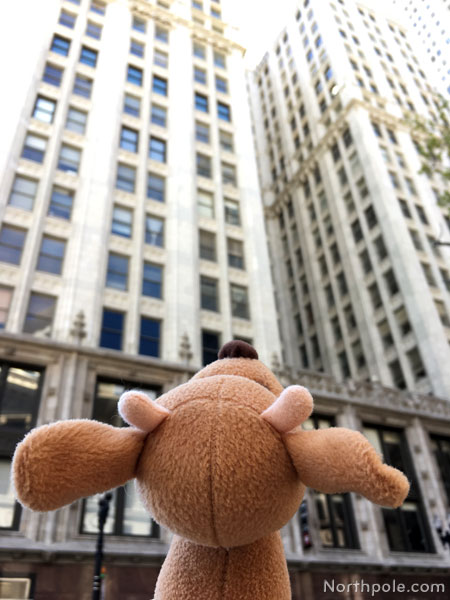 Looking up again & again to take in the architecture
After we wandered for a bit, we grabbed lunch at Le Pain Quotidien where we had a delicious avocado tartine. Then, given the mild temperature and bountiful sunshine, we decided to head over Lakefront Trail via Maggie Daley Park.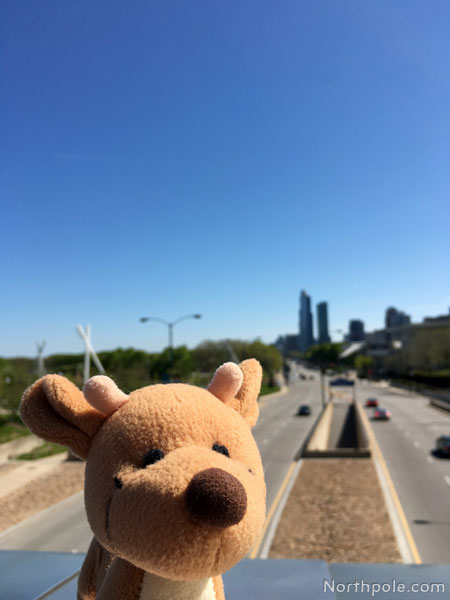 Crossing over Columbus Drive on the pedestrian bridge to Maggie Daley Park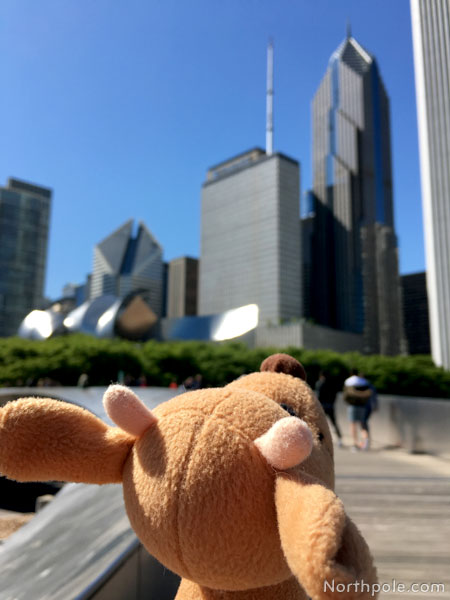 Looking back at the Jay Pritzker Pavilion, Prudential Plaza, and Crain Communications Building
Maggie Daley Park contains picnic groves, a play garden, tennis courts, a climbing wall, and lots more—some of which we saw as we made our way towards Lake Michigan.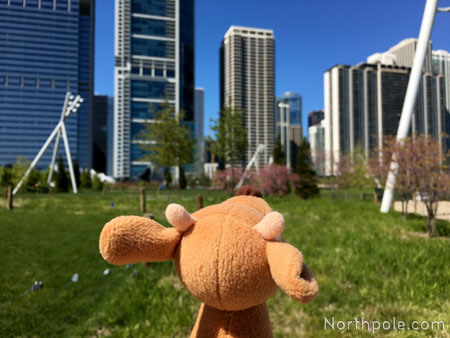 Checking out the funky light structures in Maggie Daley Park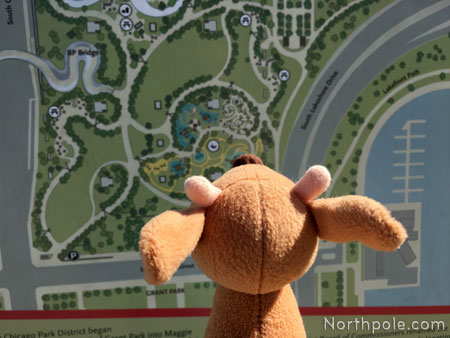 Double-checking where we were on the map
During our walk, Raymond and I kept seeing kiosks where you could rent a bicycle. As we neared Lake Michigan, we determined that it would be a lot of fun to ride along Lakefront Trail, so we rented one of the bright blue bikes.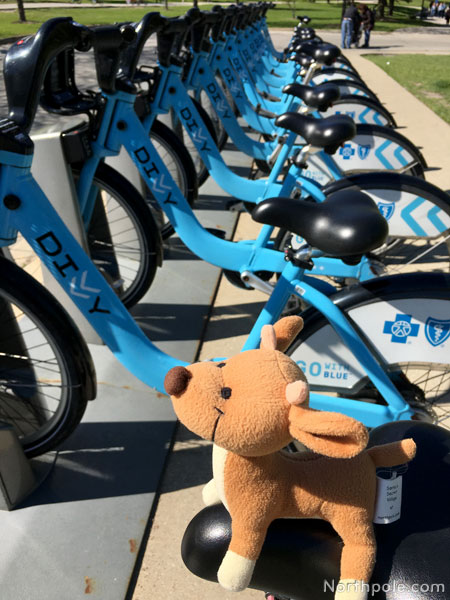 Raymond is ready to ride
And off we went along Lakefront Trail!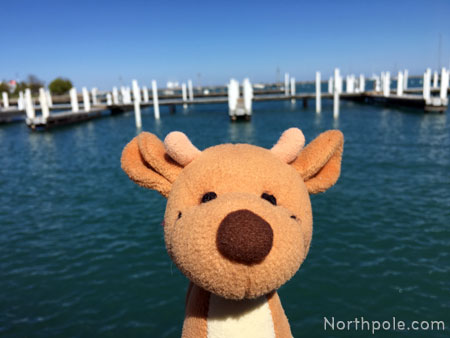 DuSable Harbour made for a nice photo backdrop
Raymond wanted to steer, but I suggested that he just hang on and enjoy the ride. [Plus—if I'm honest—I didn't trust his cycling skills, and I didn't want to end up in the lake!]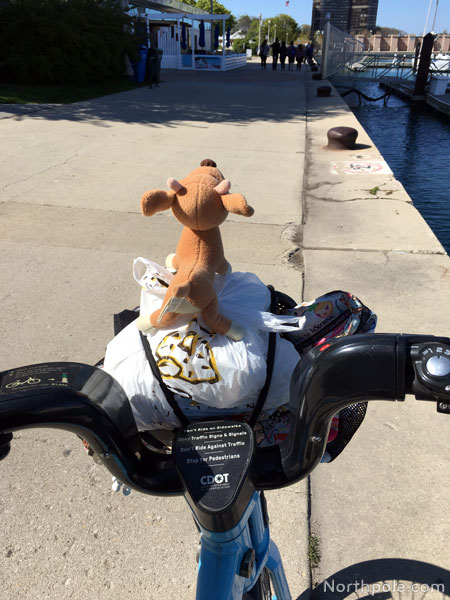 Raymond holding onto our loaf of bread from Le Pain Quotidien for security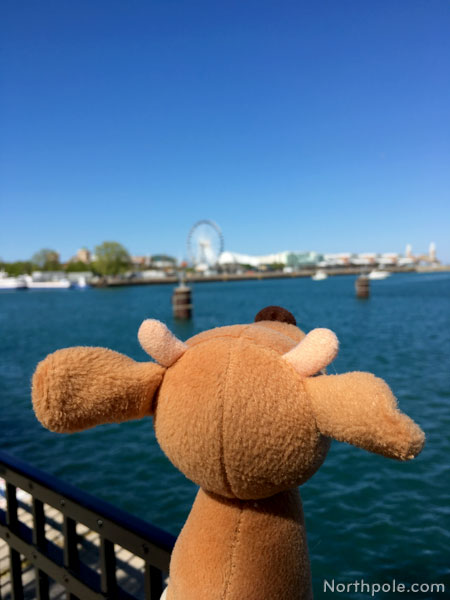 Peering across the water at Navy Pier, which we visited last time
We finished up our ride by going down the Chicago Riverwalk, which is next to the river down below the streets. It was peaceful there, and we saw gorgeous blooms on various types of trees.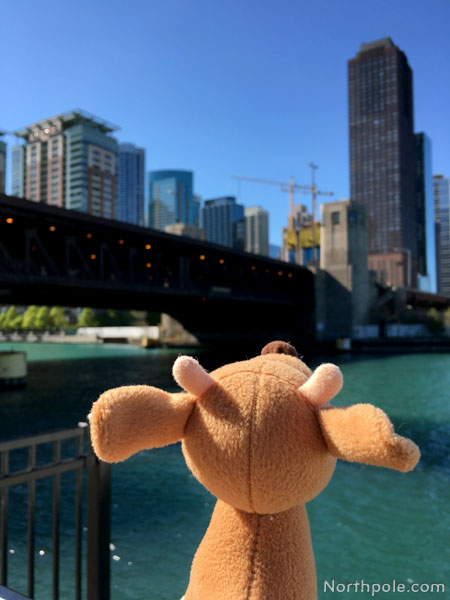 About to turn onto Chicago Riverwalk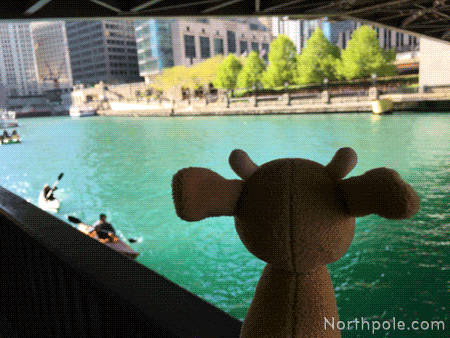 Watching the kayaks and boat make their way down the Chicago River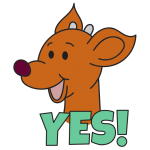 P.S. Do you love Raymond as much as we do? Then download the Raymond the Reindeer Stickers for iMessage today!