Making Christmas Memories with Holiday Train Displays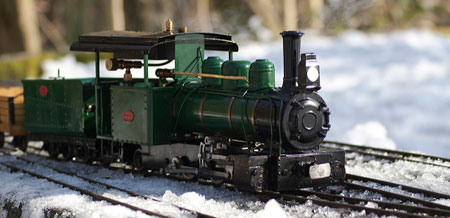 A holiday activity that will leave the young and young at heart filled with awe is a trip to see a model train display. At first sight, it's quite impressive to see the trains, buildings, and various miniatures. Then when you consider how many hours it takes to construct each set and the skill required to wire the circuits, it's really amazing. I've rounded up a handful of train displays for you to visit, and since words cannot adequately convey how grand these various exhibits are, there are videos for you to enjoy!

EnterTRAINment Junction is home to a humongous model train display and other interactive activities for children. After oohing and aahing over the life-like trains, structures, and landscapes, kids can head over to Imagination Junction and play. You might even get to say "Hi" to Santa and Mrs. Claus while you're there. EnterTRAINment Junction is open year-round, but the holiday fun will end on January 1st.
Click here to purchase tickets and here for EnterTRAINment Junction's hours of operation.

What began as one man's hobby turned into a local tradition, and in 1961 the Choo Choo Barn opened its doors to the public. Fast forward to the present, the crew at Choo Choo Barn transforms their giant model train display, Traintown USA, into a wintery wonderland each November. Miniature houses and buildings are donned with holiday decorations, and the surrounding landscape gets a dusting of snow. While you're there, try and see how many hidden Santas you can find in the display. (Hint: There's a Santa for each year the Choo Choo Barn has been open.)
Click here the Choo Choo Barn's rates and hours of operation.

The holiday trains at Homestead Gardens are a Christmas tradition that locals eagerly anticipate every year. Whether you want to share the experience with your out-of-town guests or pass the tradition on to your children, your trip to Homestead Gardens will be a memory you'll cherish for years to come. The trains are set up in the Davidsonville store and will continue to be on display through the end of December.
Click here for Homestead Gardens' hours of operation.

If you live near Blackstone, Virginia, then you'll want to head over to Bevell's Hardware to marvel at their holiday train display. Admission is free, so this Christmas outing is budget friendly! The trains will be rolling away for the season soon, so make sure you visit before January 8, 2017.
Click here for the hours of operation of Bevell's Hardware.

With over 1,000 trains, 9 miles of track, and 250,000 figurines, it's no wonder why this fascinating exhibit attracts more than one million people each year. Miniatur Wunderland is the largest model railway in the world and is still growing. The exhibit currently has 9 completed sections that include: Italy, Scandinavia, USA, Middle Germany, and more! In the video above, you'll get a glimpse of the marvelous model displays, but it doesn't do justice to how amazing Miniature Wunderland is. Something this spectacular necessitates a visit! If you're unable to go to Miniatur Wunderland this year, click here to enjoy another video.
Click here for tickets and here for Miniatur Wunderland's hours of operation.