Christmas Tree Lighting Ceremonies
As I mentioned earlier today, one of my favorite things about Christmas is the lights! Cities and communities all over the world are decorating their towns with holiday decorations and are kicking off the season with a tree lighting ceremony. In many places, you can expect a variety of fun festivities in addition to a grand evergreen, such as Christmas carols or live reindeer. Grab your hats and mittens and take your family to a tree lighting near you!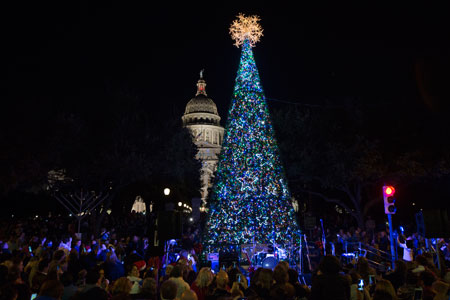 Make your plans to head into downtown Austin this Saturday, December 3rd, to participate in the Holiday Stroll. You'll want to get there early because there's much fun to be had! Shop the farmer's market for holiday gifts at 5pm, then lift your voice and join the holiday sing-a-long at 6pm. Just as you're getting warmed up, you can see the tree light up at 7!
The tree in Historic Dublin will be lit tonight! Brace yourself for an enjoyable evening, as kids can see live reindeer and visit with Santa, plus adults will enjoy watching artisans carve an ice sculpture. If that wasn't enough to entice you, perhaps the free hot chocolate will—yum!

On Friday, December 2nd (tomorrow!) the jolly folks in Geneva, IL are putting on a spectacular holiday celebration. Santa Lucia's arrival kicks off the festivities at 6pm, followed by Santa Claus himself who will light the tree. Stick around and roast some chestnuts, enjoy music from strolling carolers, or go for a carriage ride with your sweetie.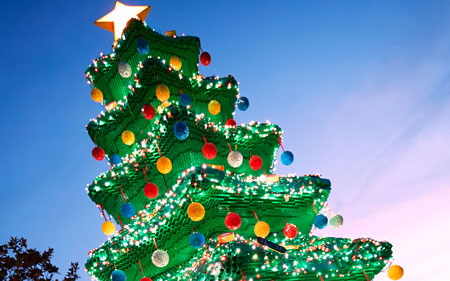 LEGO™ lovers in California will want to visit the LEGOLAND resort to see the giant Christmas tree made from thousands and thousands of bricks! Positioned near the entrance to the park, stop by to see this big tree come to life with twinkling lights every day from now until Christmas Day.
For those of you in the the metro Tucson area, hop in the car and take a short drive over to Marana for their tree lighting ceremony on Saturday, December 3rd. Fun for the whole family, the celebration starts at 3pm with performances by a youth choir, dance troupe, and more. Then at 6:30pm, the much anticipated Christmas light show will begin!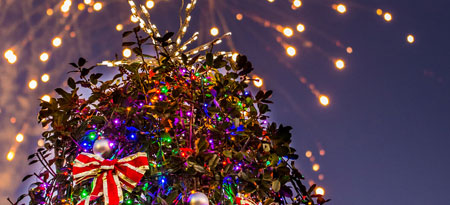 For 21 years, the folks in Mt. Pleasant, SC have been celebrating Christmas with an annual holiday parade. This year the festivities begin on December 11th at 5:30pm when the town's Christmas tree will be lit. The tree lighting will be followed by a display of fireworks, and then the holiday parade will proceed through the streets. Want to find a good spectator spot? Click here to find out where exactly the parade will travel.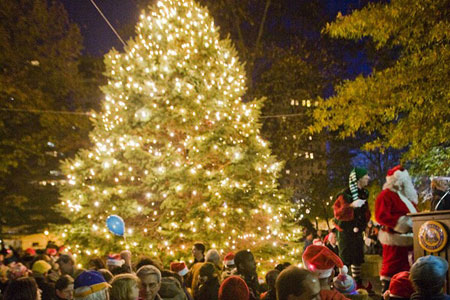 Roasted chestnuts, hot cocoa, and Christmas carols are just some of the fun things you'll enjoy at this tree lighting ceremony. Rittenhouse Square is home to Philadelphia's largest Christmas tree, so when the 5,000+ lights start glowing, it's truly a sight to behold. Clear your schedule, because these festivities are tonight, December 1st!

In keeping with tradition, the grand evergreen in Trafalgar Square hails from Norway. Tonight, the Christmas tree will be lit at 6pm by a few folks, including the Norwegian Ambassador. If you miss this evenings's festivities, you can mark your calendar for the Blessing of the Crib on December 4th or Carol Singing on the Square throughout the month.