Raymond Around the World: La Grande Avventura Cibo Italiano
Over the past couple of years, Raymond and I have visited Rome and Venice, Italy. On both of these wonderful trips, one of things we enjoyed most was the food. Italian cuisine is one of my favourites, and Raymond is quite partial to it as well. As vegetarians, we both love all of the food options we have when in Italy.
Well, at the beginning of this year, Raymond and I had a hankering for pasta, pizza, and the like, so we travelled down to Italy for a few days to nosh and relax. We walked quite a bit each day, which was good since we ate a lot, too!
Warning: You might want to grab a snack because if you aren't already hungry, you sure will be by the time you finish reading this post 😉
On our foodie excursion, we spent most of our time in Venice. As soon as we arrived in this ancient city, Raymond and I popped into a pizzeria where we shared a pizza topped with spinach and egg.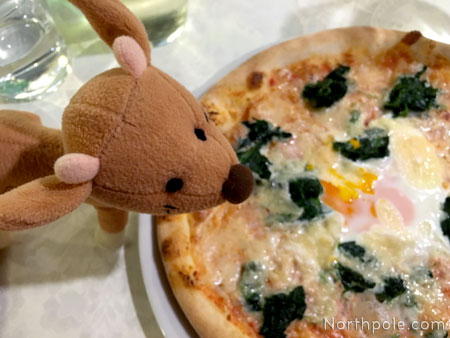 Raymond about to dig into pizza con spinaci e uovo
While walking around the town, we kept seeing these giant cookies in bakery windows, so we grabbed one to nibble on back at the hotel. It turns out these cookies are called pan dei dogi, and they are unique to Venice. They come in different flavours [ours was pistachio] and are topped with almonds or hazelnuts.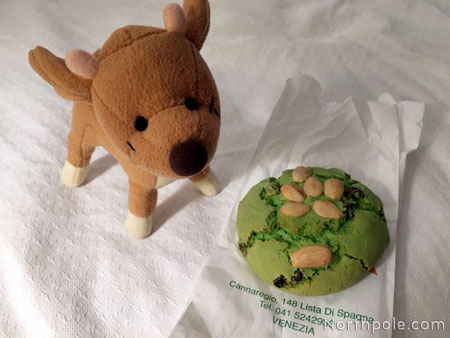 With our pan dei dogi al pistacchio
There are no roads or cars in Venice; therefore, everyone gets around either by walking or via vaporetto, which is a waterbus. So the following day Raymond and I took a vaporetto along the Grand Canal to our next delicious destination.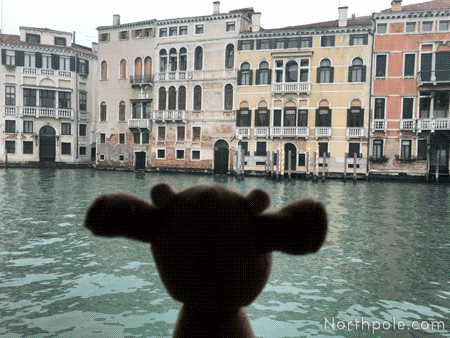 Enjoying the ride along the Grand Canal
Hidden down a side street, Friedland offers pasta and other dishes in take-out containers. Don't let the unassuming appearance fool you—Friedland's handmade pasta is extremely tasty and served piping hot.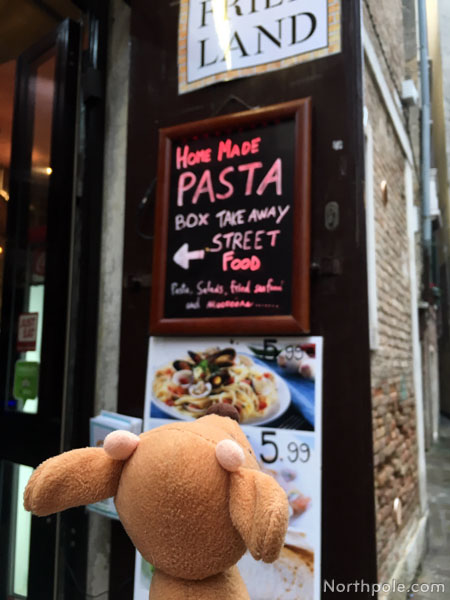 Walking into the tiny space occupied by Friedland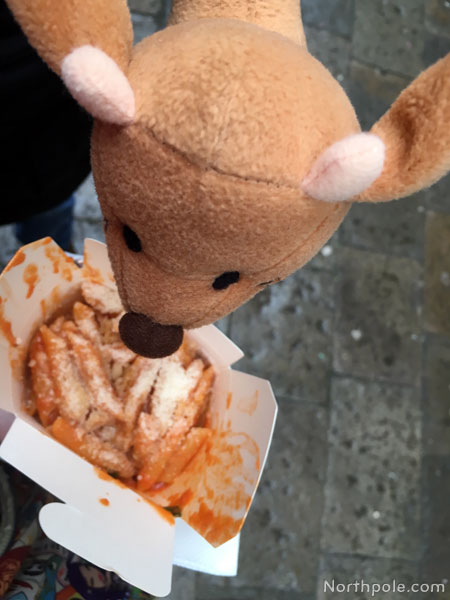 The yummy pasta al pomodoro from Friedland was only €3.99—a steal!
Raymond and I then walked around, just exploring. We figured we needed some exercise since we were planning on eating a large meal later. And we may have stopped at GROM for gelato, but we were too busy enjoying our ice cream and forgot to take a photo.
Later on when dinnertime rolled around, we hopped on a vaporetto to visit another restaurant.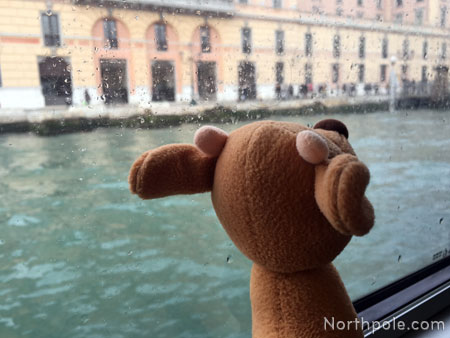 Peering out the vaporetto window
For dinner, we ventured to Spaghetteria-Pizzeria 6342 A Le Tole. We had seen this restaurant on a previous day and promised ourselves we would return because they had gorgeous fresh pasta on display in the front window. Raymond and I are so glad we made sure to go back because the food was incredible!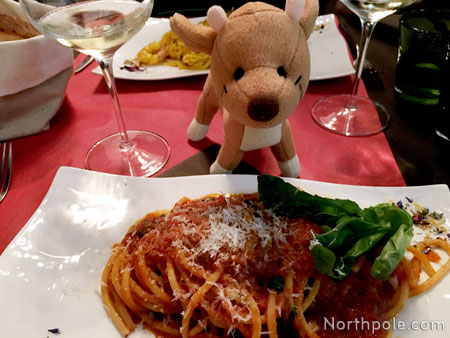 Maccheroni al pomodoro at 6342 A Le Tole
We must've been going through a pomodoro phase since we had it twice in one day, but it's just so good. After cleaning our plates, Raymond and I could not figure out what dessert to order because they all sounded mouthwatering. But why decide when you can just split 2 different desserts, right?
Since we were in Venice during Carnival, not only did we get to see all of the amazing masks and costumes, we also were able to try a dish that is only served during this time of year: frittelle di Carnevale. These donuts come with a variety of fillings, but ours were filled with custard cream and came with warm chocolate to dip them in. Delizioso!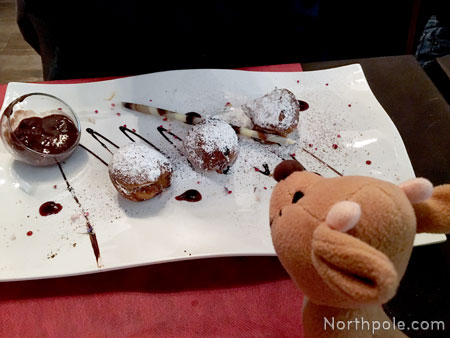 Raymond eyeing the frittelle di Carnevale
The other dessert we shared was—of course—tiramisù. Despite not liking coffee, I LOVE tiramisù. Raymond had never tried it before, but he's definitely a fan now.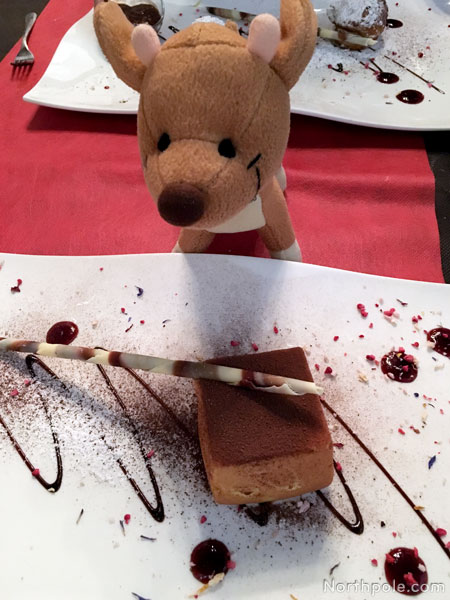 6342 A Le Tole's tiramisù
After a few tasty days in Venice, we travelled farther south to Rome. We were craving pasta, and we knew our first meal in Italy's capital had to be cacio e pepe. This Roman specialty is a very simple dish of spaghetti, Pecorino Romano cheese, and black pepper.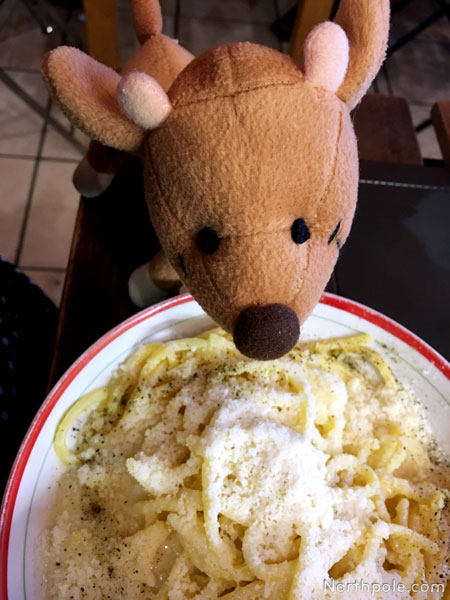 Raymond says, "Mmm…"
If you are ever in Rome, don't walk—RUN—to Pinsere. This award-winning pizzeria serves the classics as well as some unique flavour combinations. For our final meal in Italy, Raymond and I shared a gorgonzola, walnut, pear, and honey pizza, and we agreed that it was one of the best [if not THE best] pizzas we've ever had in our lives. The delectable crust and balance of flavours took this pizza to a whole other level of yumminess.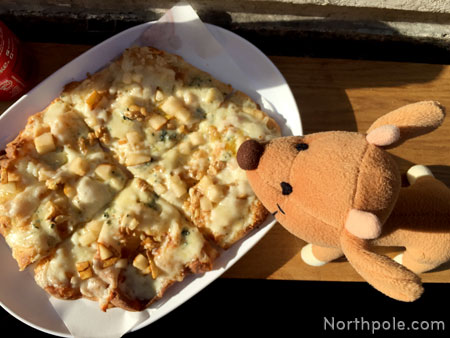 This pizza was a thing of beauty
Raymond and I had so much fun eating our way around Italy. We may have to take more food-centric trips in the future. And I should've heeded my own warning and gotten a snack because writing this post has certainly made me hungry! I think I'll wander on over to the Kitchen and see what Mrs. Claus is baking.
Where else do you think Raymond went this year? Stay tuned to find out! 😀