#OptOutside with Your Dog and Support the ASPCA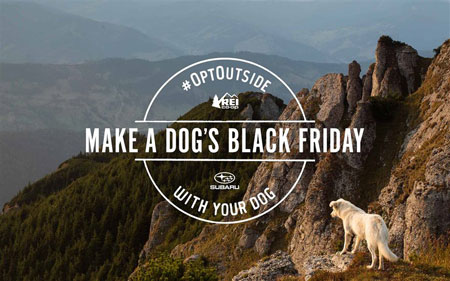 Last November, the outdoor recreation and sporting goods retailer REI did something rather unheard of. On Black Friday, they closed all of their stores and paid their 12,000 employees to spend time outside. They dubbed this campaign #OptOutside, and they encouraged everyone else to join them in the great outdoors instead of at the shopping mall. What a refreshing idea!
This year I'm thrilled to report that REI has partnered with Subaru, and together they are inviting dog lovers to #OptOutside with their pups this Friday. I simply cannot think of a better way to spend a day than being outside enjoying nature with my best friend—my basset hound—so I'm all for this. If you need help deciding what to do with your pup, check out REI's list of dog-friendly activities.
To make this campaign even better, if you post a photo of you and your doggie out in nature with the hashtags #OptOutside and #MakeADogsDay, Subaru will make a donation to the ASPCA.

The ASPCA (American Society for the Prevention of Cruelty to Animals) was established 150 years ago, making it the oldest humane society in the United States. As the President & CEO of the ASPCA Matthew Bershadker said, their "focus is to get pets out of shelters and keep them in homes, while increasing the protections of animals under the law. We are helping to shape a society that continuously improves the lives of animals."
True to their motto—"We are their voice"—the ASPCA strives to make lives better for animals in a variety of ways. They work with the government to enact and enforce animal protection laws, perform spay/neuter operations across the country, run an adoption centre in NYC, transport animals to shelters, save animals from horrible conditions, and much, much more. Working to protect those who have no voice is a noble mission indeed.
I truly hope that everyone will venture outdoors with their dogs this Friday to pause and enjoy the beauty of nature. If you do, don't forget to post a photo on Instagram, Twitter, or Facebook using the #OptOutside and #MakeADogsDay hashtags to help raise money for the ASPCA! Additionally, if you want to give more to the animals, you can always donate to the ASPCA in honour of a loved one or host a Holiday Campaign.